Description
Antelope Audio

Discrete 4 Synergy Core
THUNDERBOLT & USB AUDIO INTERFACE
WITH FPGA + DSP FX PROCESSING

SYNERGY CORE
The new frontier in FX processing
Introducing Synergy Core – Antelope Audio's next generation signal processing platform. Using FPGA's massive parallel computation capabilities and industry-standard DSP power combined, Synergy Core frees up your CPU while processing your FX with extremely low latency.
2x DSP + 1x FPGA chips let the Discrete 4 Synergy Core handle up to 4 FX channel strips X 8 FX slots each for a maximum of 32 FX instances at any sample rate. That's four times the processing power of the Discrete 4 Basic.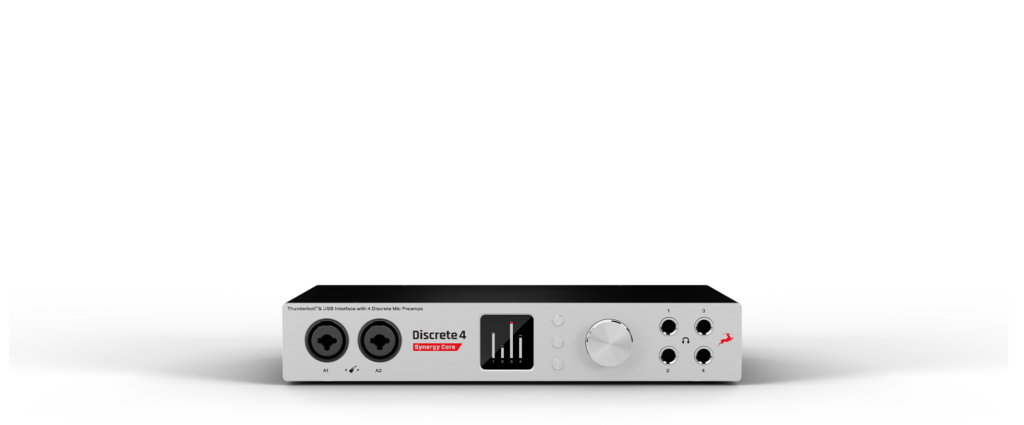 SYNERGY CORE
FPGA + DSP – THE BEST OF BOTH WORLDS
Offload FX processing to reduce buffer size, record with sub-millisecond latency & monitor in real-time.
FPGA dynamically recreates studio effects & mic models on the circuit and component level.
Industry-standard DSP brings a wider variety of effects to an efficient real-time, low-latency platform.
Improves your computer's stability when handling CPU-heavy synths, samplers and FX.
Future-proof and configurable architecture lets us design each product for optimal performance.
FPGA eliminates the issue of latency stacking which is common with DSP-only units.
REAL-TIME LIVE MONITORING
Auto-Tune Synergy
Built from the ground-up for the Synergy Core platform, Auto-Tune Synergy adds live pitch correction to the Antelope Audio experience. Industry-leading pitch correction anytime you need it – live, during recording, and at mixdown. Fully adjustable Retune Speed, Flex-Tune, and Humanize parameters with Auto-Key automatic key and scale detection. Real-time, low latency performance with the Edge Go modeling microphone and any Antelope Audio Synergy Core interface. 'Classic' mode pays homage to the legendary "Auto-Tune 5 sound" heard on countless hit records
EXPANDABLE FX LIBRARY
36 Synergy Core FX Included
Adding further value to your investment, the Discrete 4 Synergy Core includes a compelling library of 36 real-time studio effects, meticulously modelled after their hardware originals. It's all happening inside your audio interface with the lowest latency possible thanks to FPGA's massive parallel computing capabilities, DSP processing, and fast Thunderbolt™ connectivity. The library can be expanded to include any effects you choose from our web store.
SIGNATURE SOUND QUALITY
Discrete preamp architecture
The Discrete 4 Synergy Core features unique 6-transistor discrete preamps for console-grade sound quality. The circuit is the outcome of an extensive study of legendary microphone preamps that shaped the sounds of countless records. We consider it a "modern classic". It is crafted with our Edge & Verge family of modeling condenser mics in mind. With their characteristics perfectly complemented by the preamp design and Synergy Core technology, a new level of microphone recording is achieved.
ACCUSONIC 3D MODELING
Mic modeling ready
The Discrete 4 Synergy Core's Accusonic 3D modeling engine lets you transform the Antelope Audio Edge and Verge modeling microphones into expensive-sounding vintage replicas. Shape the final sound with complete control over proximity effect and change polar patterns during or after recording. Choose from a collection of classic and rare microphones as you monitor and record live, bringing out the musician's finest performance. *Available with Antelope Audio Edge & Verge modeling microphones
121dB DYNAMIC RANGE
Best-in-class AD/DA
Instead of recycling outdated technology, we strive to use the latest innovations. With up to 121dB of dynamic range and sample rates up to 192kHz, our AD/DA converters ensure your meticulous performances are captured with the highest signal quality possible. Combined with a state-of-the-art preamp design and our acclaimed clocking technology, recording with the Discrete 4 Synergy Core makes your voice and instruments sound lush, bold, and expansive.
JITTER MANAGEMENT
Acoustically focused clocking
The pioneer of atomic clocking in pro audio, Antelope Audio incorporates 20+ years of clocking expertise in its audio interfaces. With the proprietary 64-bit AFC and jitter management algorithms, the Discrete 4 Synergy Core delivers the kind of artifact-free audio once accessible only to the most prestigious studios.
Eliminates signal jitter for pristine and artifact-free digital audio.
Increases width, separation, and detail in musical performances.
SUPREME WORKFLOW
Eliminate latency
For Windows users, Antelope Audio offers a very fast and stable custom Thunderbolt™ driver which achieves true sub-millisecond roundtrip latency. Thunderbolt is natively supported in macOS.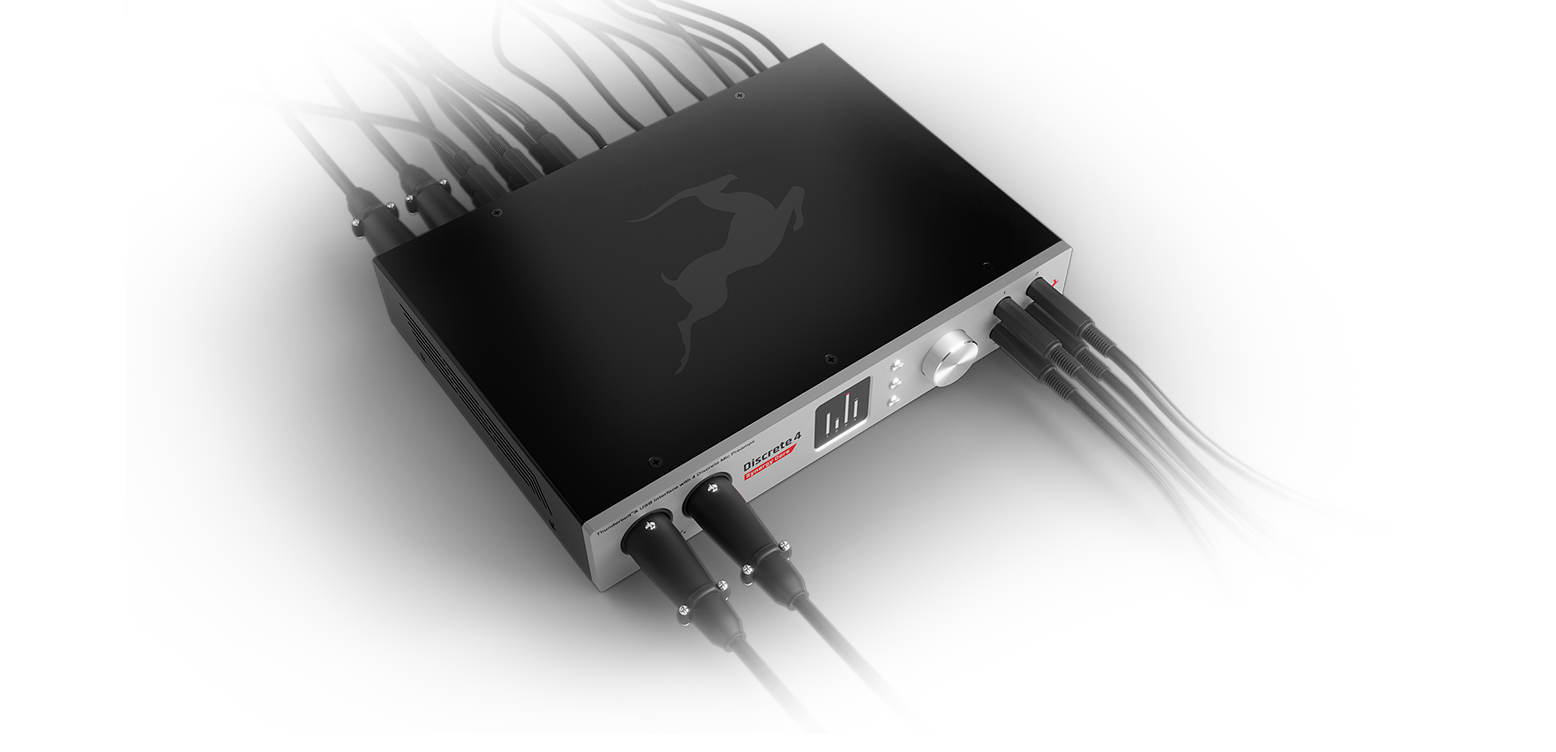 ANALOG & DIGITAL I/O
Unparalleled connectivity
With an abundance of analog & digital connectivity, as well as both USB & Thunderbolt™ ports for computer connection, the Discrete 4 Synergy Core presents more options than any DSP-equipped interface out there. Four microphone inputs, four line outputs, a pair of monitor outputs, four headphone outputs and S/PDIF are at your disposal. Digital expandability is possible via ADAT chaining. Furthermore, a pair of Word Clock outputs let you distribute the interface's highly stable clock signal across your studio. All outputs are DC-coupled.
HAND-BUILT IN EUROPE
Sturdy and portable
Housed in a machined aluminum chassis, each unit is hand-built in our European facility to strict standards, component choices and quality control. This kind of attention to detail is typically reserved only for boutique-class products.
afx2daw
IN-DAW EFFECTS AUTOMATION OVER THUNDERBOLT
Taking advantage of high-speed Thunderbolt, the AFX2DAW * plug-in lets you use Synergy Core effects as inserts inside your chosen DAW. This simplifies workflow and enables easy, immediate effects automation. *Available as a separate purchase for Mac Thunderbolt.
Discrete 4 Synergy Core
Thunderbolt and USB Audio Interface with
FPGA + DSP FX Processing
Discrete 4 Synergy Core includes a compelling library of 36 real-time studio plug-in effects, a $3,000+ value:
Gyraf Gyratec IX / Tube Mic Preamp
VCA160 / Compressor
Stay-Levin / Compressor
FET-A76 / FET Compressor
VEQ-1A / Tube EQ
VMEQ-5 / Tube EQ
X903 / Compressor / Limiter
FeedForward Antelope Compressor / Compressor
Clear Q / Parametric EQ
Power EX / Expander
VEQ-HLF / Passive High/Low Filter
Auraverb / Reverb
BA-31 / Mic Preamp
Power Gate / Gate
Plexi 59 (UK) / Tube Guitar Amp
Bass SuperTube VR / Tube Guitar Amp
Darkface 65 (US) / Tube Guitar Amp
Top30 (UK) Bright / Tube Guitar Amp
Tweed Deluxe (US) / Tube Guitar Amp
Overange 120 (UK) / Tube Guitar Amp
BurnSphere (DE) Lead / Tube Guitar Amp
Marcus II (US) Lead / Tube Guitar Amp
Modern (US) CH3 / Tube Guitar Amp
Rock 75 (UK) / Tube Guitar Amp
Rock 22.10 (UK) / Tube Guitar Amp
Darkface 65 2×12 / Guitar Cabinet
Top30 2×12 / Guitar Cabinet
Modern 4×12 / Guitar Cabinet
Green 2×12 / Guitar Cabinet
Vintage 4×12 / Guitar Cabinet
Green 4×12 / Guitar Cabinet
Caliper 50 1×10 / Guitar Cabinet
Bluelux 1×12 / Guitar Cabinet
Clst 1×12 / Guitar Cabinet
England 4×12 / Guitar Cabinet
Bass Tube 1×15 / Guitar Cabinet
Specifications:
Analog Inputs
2 x Mic / Line Inputs
2 x Mic / Line / Hi-Z Inputs
Analog Outputs
1 x Monitor Out on TRS 1/4 Jacks, +20 dBu max
4 x Line Outs on TRS, +20 dBu max
4 x Stereo Headphone Outputs
Mic Preamp
EIN: -128 dBu (A-weighted)
Dynamic Range: -121 dB (A-weighted)
THD: -106 dB
Max input: +18 dBu
Max Gain: 65 dB
D/A Monitor Converter
Dynamic Range: 121 dB
THD + N: -100 dB
A/D Converter
Dynamic Range: 121 dB
THD + N: -112 dB
D/A Converters(Line Out)
Dynamic Range: 118 dB
THD + N: – 100dB
DC Coupled
Digital Inputs
1 x ADAT (up to 8CH)
1 x S/PDIF
Digital Outputs
1 x ADAT (up to 8CH)
1 x S/PDIF
USB 2.0 I/O
USB 2.0 Type B connector
Thunderbolt connector
Word Clock Outputs
2 x Outputs @ 75 Ohms 3Vpp on BNC 32 – 192kHz
Clocking System
4th Generation Acoustically Focused Clocking
64-bit DDS
Sample Rates (kHz)
32, 44.1, 48, 88.2, 96, 176.4, 192
Operating Temperature
0-50°C, 32-122°F
Weight (Approx)
1.7 kg/ 3.7 lbs
Dimensions (Approx)
Width: 261 mm / 10.2"
Height: 44 mm / 1.7"
Depth: 208 mm /8.2"
Power Consumption
15 Watts
In the box
Discrete 4 Synergy Core Interface
Quick Start Guide
Wart External Power Supply Unit
USB Cable
Warranty Card
Put Antelope Audio's pristine AD/DA conversion and massive effects processing
power on your desktop with the Discrete 4 Synergy Core audio interface. A hot-
rodded upgrade to Antelope's popular Discrete 4 audio interface, the Discrete
4 Synergy Core gives you dual DSP chips plus an FPGA processor working in
harmony to run Antelope's expansive library of effects, as well as 3rd-party
effects joining the Synergy Core platform. The Antelope Audio Discrete 4
Synergy Core interface offers 4 console-grade discrete mic preamps, 14 total
inputs and 16 outputs, renowned Antelope digital clocking, and both
Thunderbolt and USB connectivity for your Mac or PC. Best of all, the Discrete
4 Synergy Core comes with $3,000+ of Antelope's top effects plug-ins included
free, so you can record, monitor, mix, and master your projects with world-
class sound from start to finish.
With a price-to-performance ratio that goes toe-to-toe with any Thunderbolt or
USB audio interface available, the Antelope Audio Discrete 4 is ideal for
musicians, artists and producers who need a compact, road-ready recording
setup that unlocks unprecedented power to create.
Synergy Core Processing: Future-Proof Your DAW with DSP + FPGA processing
Under the hood, the Discrete 4 Synergy Core is loaded with twin DSP chips plus
an FPGA processor that work together to run Antelope Audio's vast collection
of vintage-inspired effects plug-ins — without sapping power from your host
Mac or PC. Synergy Core increases your recording rig's stability by offloading
audio effects processing to your Discrete interface's dedicated chips. Adding
the Discrete 4 Synergy Core to your system means your DAW can make more
efficient use of available CPU power — extending the life cycle of your
existing Mac or PC, so you don't have to upgrade to a latest-spec computer
just to run all your favorite plug-ins. With Antelope effects running on
Antelope hardware, your system is optimized right out of the box — allowing
you to shorten your audio buffer size, reduce latency, eliminate clicks and
pops, and free up your host computer to run CPU-heavy VST synths, samplers,
and native time-based effects.
1 FPGA + 2 DSP = More Effects, More Variety
Antelope Audio's industry-leading FPGA audio processing platform gives you
lower latency in effects chains, allowing you to stack effects while adding
mere microseconds, not milliseconds, to your signal. The Discrete 4 Synergy
Core fuses both FPGA + DSP chips in one Antelope audio interface, harnessing
the parallel processing power of FPGA alongside the latest-generation state-
of-the-art ARM DSP chips developed for cloud computing and mobile tech —
processors that deliver a faster clock rate than other DSP chips used in the
audio interface market. This exclusive hybrid architecture offers computing
power synergies unique to Antelope Audio, greatly expanding the variety of
Antelope effects that can be developed — including time-based delays,
choruses, flangers, and beyond. Your Discrete 4 Synergy Core arrives loaded
with 36 Antelope FX included free — classic compressors, studio EQs, must-
have reverbs, tube guitar amp models based on iconic vintage gear — and all
the processing power you need to run them!
Uncompromising Analog-to-Digital and Digital-to-Analog Conversion Quality
A-to-D and D-to-A converters are at the heart of every DAW-based audio
recording and playback system — and your converters can make or break your
studio. That's why the Antelope Audio Discrete 4 Synergy Core is loaded with
proven, best-in-class AD/DA with 121 dB of dynamic range on the analog inputs
and monitor outputs — so you can capture and monitor your sound with Antelope
clarity at up to 192 kHz/24-bit resolution.
Comprehensive I/O in a Portable Desktop Audio Interface
The Discrete 4 Synergy Core offers all the same I/O as Antelope's hit original
Discrete 4 interface. With both USB and Thunderbolt I/O, the Discrete 4
Synergy Core lets you choose how you want to connect to your Mac or Windows
PC. On the front panel, you'll find two XLR-1/4" combi inputs with switchable
mic/line/instrument preamps, and four independent headphone outputs — enough
for you and all the artists you're recording. Take a look at the back panel,
and you'll see two more XLR-1/4" combi inputs, two 1/4" outputs to feed your
monitors plus 4 more line outs to connect to outboard gear, ADAT and S/PDIF
digital I/O via optical TOSlink, and two Word Clock outputs to get your studio
in sync with Antelope's legendary digital clocking. Hand-built by Antelope
engineers to give you extensive analog and digital I/O in a robust, compact
unit, the Discrete 4 Synergy Core gives you serious bang for your I/O buck.
Antelope Audio's Proven Clocking Technology
Top recording studios, film and broadcast facilities, and massive live
productions rely on Antelope Audio master clocks like the OCX HD and Pure2 to
maintain stability and sonic integrity in PCM digital audio. A reliable master
clock lies at the heart of every pro studio, and the Discrete 4 Synergy Core
wouldn't be an Antelope Audio interface if it didn't offer rock-solid
clocking. Loaded with Antelope's 4th-Generation 64-bit Acoustically Focused
Clocking (AFC) jitter management algorithm, the Discrete 4 Synergy Core offers
two 75-ohm BNC Word Clock outputs so you can expand your studio with more
digital gear and clock it all to the Discrete 4 Synergy Core. Add Antelope's
industry-leading digital clocking to your studio, and capture recordings with
greater clarity, dimension and detail.